It's not too late!
Christmas Longarming
Have no fear! Our longarming elves are here! Bring in your Christmas gifts to be quilted and we will have them quilted before Christmas!!
Date Change
Binding Class
Do you have a stack of quilts waiting for the binding elves to come? Have no fear! Margie is here to teach you how to hand stitch and machine stitch your binding! Join us on Saturday, December 7th from noon to 2 pm. The class cost is $25. All materials and tools sold separately.
Magnificent Beginner's Class
New to quilting? Or want to brush up on the basics? Join our Magnificent Margie as she teaches you how to sew this beautiful quilt using Tucker Tools! The class begins on Thursday, January 16th from 6 pm to 9 pm and continues every Thursday for 6 weeks. This totals 18 hours of instruction. The class cost is $75. Kit, pattern, and tools are sold separately. Stop by to sign up today! Space is limited.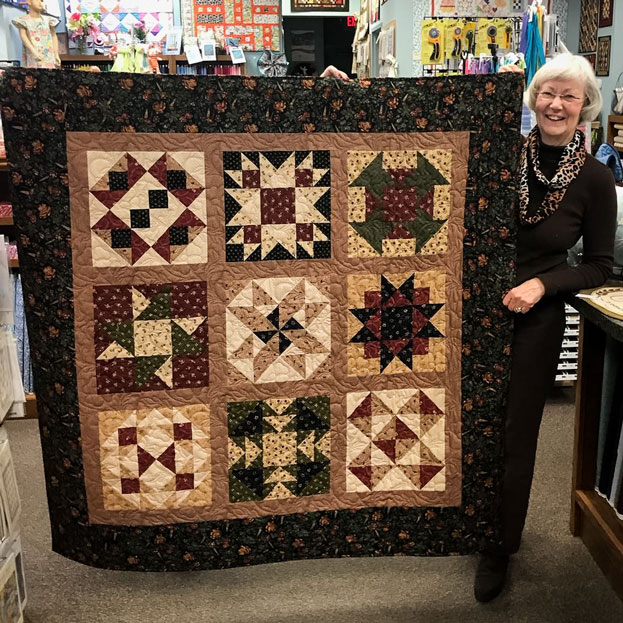 "I needed help with boarders for my quilt, they were great at helping with the colors, since there really was no rhyme or reason to the design. Will definitely go back again." 
"Just took my first series of quilting classes. I had so much fun, enjoyed the other class quilters and learned a lot. Julie was fantastic and explain everything so you could understand. She also was quick to answer any question"
"Great place to shop, quality merchandise and a fantastic staff. One of my favorite places to spend time!"